WHEN STARTING YOUR OWN BUSINESS, DO YOUR HOMEWORK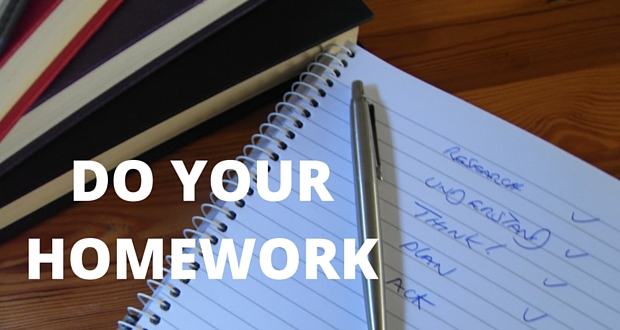 When starting your own business, you must be aware of the failure rate and YOU must think that failure must be avoided at all costs.
50% of new businesses fail in the first 3 years and there are many reasons for this high rate, but ONE big reason is the lack of HOMEWORK that is done before a business is started.
What do I mean by HOMEWORK?
In short, I mean 5 things:-
I call this process RUTPA –  R for RESEARCH, U for UNDERSTAND, T for THINK, P for PLAN and A for ACT.
Every business owner should do RUTPA as a HABIT, whether they are STARTING a business or are well into the RUNNING of one.
When You Start Your Own Business, You Must Research Heavily
When YOU start your own business, YOU must RESEARCH heavily literally EVERYTHING to do with your new business, including:–
The PRODUCTS you will sell
The PRICES you will buy your PRODUCTS for and the PRICES you will sell them for
Your business COSTS & EXPENSES
This is just a snapshot of what YOU need to RESEARCH. But by RESEARCHING very heavily and very comprehensively EVERYTHING within your new business, YOU will be able to UNDERSTAND your business FULLY, before YOU actually START.
Your Understanding Should Allow Quality Thinking
Your UNDERSTANDING should then enable some quality THINKING on how your business will be moulded and how it will RUN.
Once and, only once, YOU THINK YOU are READY TO START your business, YOU should ACT and get STARTED. But this should NOT be done until YOU have done RUTPA RIGHT and COMPLETELY.
Businesses Start With Inadequate RUTPA
Too often businesses START with INADEQUATE RUTPA –  they only do a fraction of the RESEARCH that is needed and they don't UNDERSTAND their businesses enough.  WRONG THINKING and PATCHY PLANNING then follows and the business has a POOR START.  These businesses then struggles for the early months or years before eventually FAILING.
If YOU are STARTING YOUR OWN BUSINESS, YOU should take your time, use RUTPA and do it RIGHT and FULLY and then only OPEN when YOU are READY.
THINK SMART, ACT SMART
If you would like further advice on this, please contact me: Robert@prestigebusinesscoaching.co.uk
Or leave a comment below to engage in the conversation.