How Well Do You Know Your Numbers?
50% of businesses fail because they are not profitable or have a poor cash flow.  There are two big reasons for this - many business owners have a poor understanding of their business numbers and many have a poor focus on creating a profit.  
So, how well do you understand your numbers?  
This is one question I always ask business owners and, in most cases, the response always disappoints me.  
The most successful in business always know their numbers and they always understand how the money works in their businesses.   If you don't do the same, then you must.
You may not be in business to make your millions but every business must make a profit to survive and to provide yourself with a living, so it is something you must master.
By knowing your numbers, you can achieve a good business profit, good revenue, good sales margin and control of your costs and cash-flow. Then, when you do achieve a good profit, it eliminates much of the stress of running a business.
I always show my clients how to master their business numbers and here I include a selection of articles to inspire you to do the same.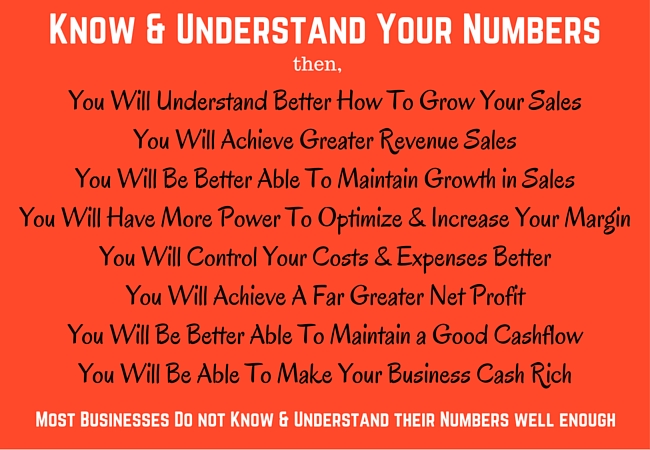 Business Success: Have Control Of Your Business Numbers
Are You On Top Of Your Business Numbers And Finances?
If You Are Not, Better Control Could Give You Greater Sales And Profits.
If I was to ask you how much net profit you made last month or how much you paid out to your employees, could you tell me?
I really hope you could.
But when I talk to small business owners, on average, just THREE out of TEN can tell me, accurately.
Does this surprise me?
No!

Do You Know Your Business Numbers?

Do You Know Your Numbers?
How well do YOU know your BUSINESS NUMBERS?
If you have ever watched Dragon's Den, you may have noticed that many of the prospects fall down on their numbers when pitching to Peter Jones and company.  Those pitching for the Dragon's money often cannot answer questions about their numbers such as their REVENUE SALES, their GROSS PROFIT MARGIN, their COSTS and importantly their NET PROFITS.
HOW WOULD YOU DO IN THE DEN?
DO YOU KNOW YOUR BUSINESS NUMBERS?
I frequently talk to businesses and this is one of the first questions that I ask. More often than not, a hesitant and unconfident response follows, which always strongly suggests that the business owner is ignorant of their numbers.
I estimate ONLY about 10% of business owners really KNOW THEIR NUMBERS, who can confidently tell me:-
How well do YOU know your BUSINESS NUMBERS?

How Healthy Are Your Business Profits?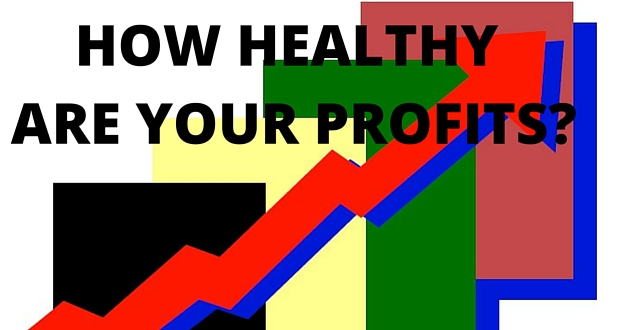 Is Your Business Profit Good?
How Healthy Are Your Profits?
How healthy is your business?

Are your sales rising?

Are your margins good?

Do you have control of your costs?

Are your Profits growing?

Is your business profit good?

Do you need to boost your business profit?
If your sales and profits are growing, then you should have a healthy business. But if your sales and profits are flat or are decreasing, then your business is not so healthy and you need to take action.
 
Double Your Profits By Making Small Changes

Double Your Business Profit By Making Small Changes
It is very possible to DOUBLE YOUR BUSINESS PROFIT by making SMALL changes to your REVENUE SALES, MARGINS and COSTS.
If YOU have read some of my other articles on this site, YOU would have read my comments about the top 10% who achieved good profits and good success in their businesses and the remaining 90% who are running mediocre business with mediocre profits.
In my articles, I have also made several references to SMART BUSINESS THINKING and SMART BUSINESS ACTIONS and have said that if the 90% want to migrate to the top 10%, they have to change their THINKING and ACTIONS in their businesses.
In this article, I want YOU to THINK that through SMART BUSINESS THINKING and SMART BUSINESS ACTIONS, YOU could increase your BUSINESS PROFIT dramatically by only making small changes to your business and your business plan.